RACE INFORMATION 
KEMPTON RACECOURSE 5K, 10K & HALF MARATHON – Sunday 9th February 2020
Address: Kempton Park, Staines Rd East, Sunbury-on-Thames, TW16 5AQ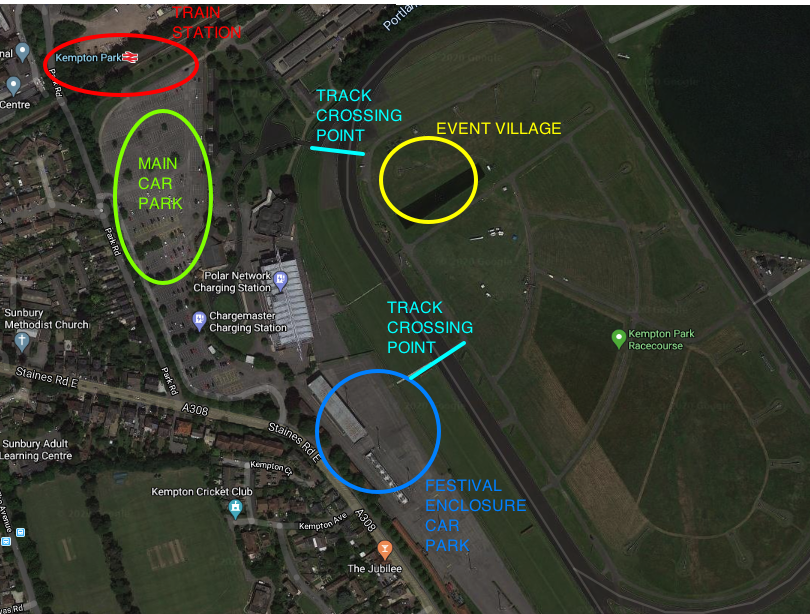 Start Times: 
Half Marathon – 10:00am
10k – 10:50am
5k – 11:00am
Race Numbers
All pre-entries will be assigned a number. To collect them you need to make your way down to the numbers desk between 8:30am – 9:30am for the Half Marathon and 9:30 and 10:30am for the 5k and 10k. It will take around 15 minutes to collect your number and drop your bag off. The earlier you get there, the more efficient we will be on the day. You will only need one number attached to the front of your shirt. If you have your own pins then that would be great but we will have supplies if needed.Your timing chip will also be in the envelope, this needs to be attached to your shoe as per the instructions on the back of the chip. Please make sure you keep your number on at all times during the race. At the finish you can dispose of your chip (we do not need to collect them back).
When you receive your race packs, please take a couple of minutes to fill out the brief Runner Information form which can be found printed on the back of your bib. This will help us greatly in case of an emergency, and there are pens available at the registration desks.
You will find instructions on the back of your chip for how to attach it to your shoe correctly (as below):
Event Village 
The Event Village is located in the Centre of the Course at Kempton Park. The track crossing points will be visible from the Festival Enclosure car park. The Start & Finish Line are located within the Event Village.
Strava
If you are a Strava user then join our group HERE.
Baggage
We will have a secure area where you can leave your baggage. We recommend you bring as little baggage as possible. Your baggage tag is attached to your race number, you simply tear it off and attach to your bag. To collect,  show your number to the baggage tent staff and they will help you find your baggage.
Toilets
There will be toilets available & signposted within the Grandstand next to the Festival Enclosure car park for use during the event, a short walk from the event village area.
Refreshments
There will be water provided on every lap of the race, and there will also be water available at the finish. We have also got some post race goodies for you all to try and can be collected from the finish line alongside water, bananas and of course flapjacks!
Good Luck with the run on Sunday from Team ACTIPH. ACTIPH Water is the UK's first alkaline ionised bottled water with the highest pH in Europe. Through a unique ionisation process, our purified spring water is infused with a blend of electrolytes and supercharged to create a smooth and clean tasting alkaline water with a pH9+. ACTIPH is the healthy choice as you restore and maintain your natural balance, enabling you to live life to the fullest and get the most out of every day. All ACTIPH bottles are 100% recyclable and BPA free including the cap and label which makes us unique to other bottled waters and we believe gives us a clear sustainability advantage. Please remember to recycle in a recycling bin after the race. Take your hydration to a higher level and grab a bottle of ACTIPH at the finish line.
KIND® is more than just a name. It's a commitment: to making snack bars that don't compromise. Just the very best ingredients. Full of wholesome nutrients. And always packed with flavour. They have kindly donated some of their delicious bars for you all to try after your race! To find out more about KIND and their products, head to their website HERE.
Thank you to VIT HIT for donating some of their low calories vitamin drinks for you all to try after your race! Don't forget to grab one! Head to their website HERE for further details about their yummy products.
Thank you to Indie Bay Snacks for donating some of their delicious goodies for you all to try! Their snacks are vegan friendly, a great source of fibre and protein and contain natural ingredients! To find out more about them and their products, head to their website HERE.
Joe & Seph's have kindly donated some of their popcorn pouches for you all to have after your run! Their gourmet popcorn is the perfect snack at anytime!! Head to their website HERE to find out more.
Pics Peanut Butter have kindly donated some goodies for you all to try, so don't forget to pick grab one of these after the race! To find out more about Pics Peanut Butter, take a look at their website HERE.
During the race
There will be 1 lap for the 5k, 2 laps for the 10k and 4 laps (plus a mini-lap at the start) for the Half Marathon.
There will be marshals all around the course as well as distance markers and arrows. Mile markers will be in the form of yellow signs for the half marathon, and KM markers will be in the form of blue signs for the 5k & 10k. The race involves laps around the circuit, the course is flat and quick.  Course map below:
Spectators
In terms of spectating, this venue could literally not be any better, the inner and outer course areas are open and every area of the venue is accessible to see people running round.
Results
Results will be available on www.runthrough.co.uk after the race.
Pictures
We will have a photographer taking a few snaps of the race and they will be on Facebook after the race so be sure to check it out and see if you can spot yourself.
Travel
Address: Kempton Park Racecourse, Staines Rd East, Sunbury-on-Thames, TW16 5AQ
By Train
Kempton Park Racecourse boasts its own train station on-site – Kempton Park – which is situated 200 yards from the North entrance. Trains run every half an hour direct from London Waterloo with the journey time being just 40 minutes. We recommend planning your journey in advance.
By Car
Kempton Park is located on the A308 between Sunbury-on-Thames and Hampton Court, less than one mile from Junction 1 of the M3 via Junction 12 of the M25.
Parking for the event is free, and the event car park will be in the Festival Enclosure car park (map at the top of the email). Please head for the North Entrance to Kempton Park Racecourse, and follow the Race Parking signs to the right once inside the Racecourse for the Festival Enclosure car park. Traffic marshals will also be available to assist and get you parked in the car park.
The racecourse is easily accessible by both foot and cycle. Cycle parking is available at the venue.
Things to note!
We have marshals around the course and signs but this is not a road race, you have to pay very close attention to where you are going. We recommend you do not use earphones and you need to pay close attention to everything around you.
Social Media 
Join our group on Facebook, RunThroughUK Chat and talk all things running with us!
For updates leading up to the race, please check out our Twitter @runthroughuk and use the hashtag #RunThroughUK in the build up to the race
If you use #RunThroughUK on Instagram with your race day collages, the best ones will feature on our page!