RunTatton Half Marathon 2020
Nov 08, 2020
£30.00
10% event capacity filled
Entry Limit: 1000
2020 ENTRIES ARE NOW OPEN!

Sunday 8th November 2020 – Start Time 9.00am
Welcome to the Run Tatton Half Marathon. We are excited to announce the event will return in 2020. Set in the incredible venue of Tatton Park in rural Cheshire, this scenic route offers a road closed, fast race. Entries will be limited to 2,000 in each event and will fill up quickly.
Your entry will include:
Free entry to Tatton Park
Chip timed results
Unique themed medal
Technical t-shirt
Free official event photos
Flapjacks & fruit
BRAND NEW MEDAL TO BE REVEALED!!
(Previous medal design below)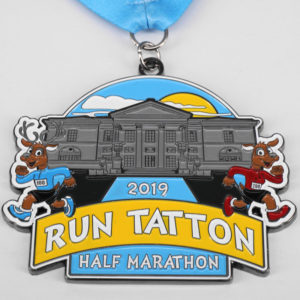 Come and enjoy the day with us; we hope to see you there!
Once you enter you will receive a confirmation email. more information will be sent closer to the event – enjoy!
For runners with personal bests under the following, please contact us for an elite free entry:

Male Half <75 minutes

Female Half <85 minutes

Male – Prizes Half

1st – £120 2nd – £80 3rd – £50

* £100 winner bonus for NEW course record

Female – Prizes Half

1st – £120 2nd – £80 3rd – £50

* £100 winner bonus for NEW course record
Address: Tatton Park, Knutsford, Cheshire, WA16 6QN

Mereheath Lane (Knutsford end) to close at approx. 9:20am until all runners have passed through – estimated 11:30am. Access to Egerton Football Club will be available during this time through Traffic Management Officer who will be present from 8am. There will be one lane of traffic open during this time on Mereheath Lane from Knutsford which will be managed by the Traffic Management officer.

Vehicles will not be able to continue north bound beyond Egerton Football Club during this time.

Residents and vehicles travelling on Mereheath Park will be able to gain access via Garden Road to exit residential area.

Parking: Due to limited parking space, can we please ask you to arrive with plenty of time before your event, and wherever possible, please car share. On arrival, our team will be showing you to the car park. Please park courteously and consider that we have a large number of people. We will require your cooperation to get everyone safely parked on the facility in a timely manner.

By bike - Cycle racks are available at both main entrances to Tatton Park. Please ensure you do not lock your bike to any of the fences on the course.
During the race
There will be marshals all around the course and there will be distance signposts. There will be mile markers, look out for the blue flags.
Volunteers
If anyone wants to help out on the day, please contact us
[email protected]
Results
Results will be available on www.RunTatton.com after the race.
Pictures
We will have a photographer taking a few snaps of the race and they will be on our Facebook page after the race so be sure to check it out and see if you can spot yourself.
Social Media
For updates leading up to the race, please check out our Twitter @RunTatton, use the hashtag #RunTatton in the build up to the race
If you use #RunTatton on Instagram with your race day collages and the best ones will feature on our page! Follow us on @RunTatton.